Dr. Jennifer Schoonover
Veterinarian/Owner
Dr. Jennifer Schoonover grew up on a small farm in Northeastern Oklahoma where her family raised beef cattle. Throughout junior high and high school she was very active in youth rodeo. After high school graduation, she attended Oklahoma State University where she received a Bachelor of Science degree in Animal Science in 1997 and her Doctorate of Veterinary Medicine in 2000.
Her first year as a veterinarian was spent in rural Ohio in a mixed animal practice while her husband, Dr. Mike Schoonover, completed an equine internship. They returned to Stillwater in 2001 after Mike accepted an equine surgery residency at their Alma Mater. During this time, Dr. Schoonover engaged in a variety of different veterinary medical endeavors including full-time private practice, part-time relief work, low-cost spay/neuter programs, and teaching anesthesia methods to veterinary students at OSU. In 2004, Dr. Schoonover and her husband relocated to Lexington, Oklahoma where they stayed until 2012 and she practiced small animal medicine at Sooner Veterinary Hospital. In 2012, the Schoonovers once again relocated to their current residence in Mulhall, Oklahoma. Dr. Schoonover continued to practice in Norman and purchased Sooner Veterinary Hospital in 2015. In the fall of 2021, she purchased Guthrie Pet Hospital from Dr. Anna Coffin and will continue to practice at both Sooner Veterinary Hospital and Guthrie Pet Hospital. Dr. Schoonover has played an active role as an OVMA member for over 20 years, recently serving as their president and chairperson of the Oklahoma State Fair birthing center committee. She has been active in the Mulhall community by serving on the Mulhall-Orlando school board.
Jennifer and Mike have 2 sons, William and Garrett, that are active in many sports along with their local 4H and FFA programs where they have taken an interest in showing goats and pigs, participating in shooting sports, and livestock judging. As an avid OSU fan, Jennifer enjoys all OSU sporting events when not working or involved in her son's activities. Go Pokes!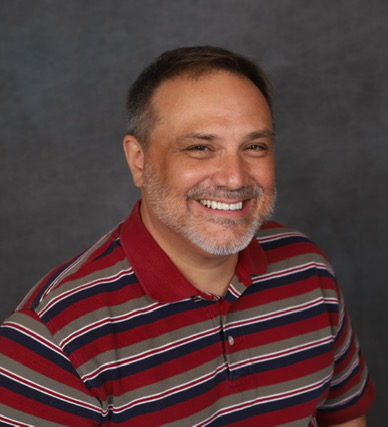 David Morales, DVM
Veterinarian
Dr. Morales was born and raised in Oklahoma City. He has been working in the veterinary profession since 1982. After graduating from Putnam City High School in 1984, he went on to earn a BS in Biology and secondary education from Southern Nazarene University in Bethany, OK in 1988, and earned his Doctor of Veterinary Medicine Degree from Oklahoma State University in 1996. Following graduation from Veterinary School, he served as an associate veterinarian for 9 years in a small animal practice in NW Oklahoma City before joining the faculty of the veterinary technician program at Oklahoma State University-Oklahoma City in 2006, attaining the rank of associate professor and being awarded tenure. While teaching, Dr. Morales continued to practice veterinary medicine part-time at a small animal practice in Moore, Oklahoma. Dr. Morales returned to a full-time veterinary practice in September 2015 when he joined the staff at Sooner Veterinary Hospital. His interests in veterinary medicine are kidney, liver, and heart issues as well as client education.
When not at the clinic, Dr. Morales enjoys spending time with his wife, Rachel, also a veterinarian, and their 3 children, taking photographs, playing tennis, camping, and boating.
He is also involved in many church activities. Dr. Morales has 2 sphynx cats, 2 dogs, a hermit crab, a hissing cockroach and many tropical fish.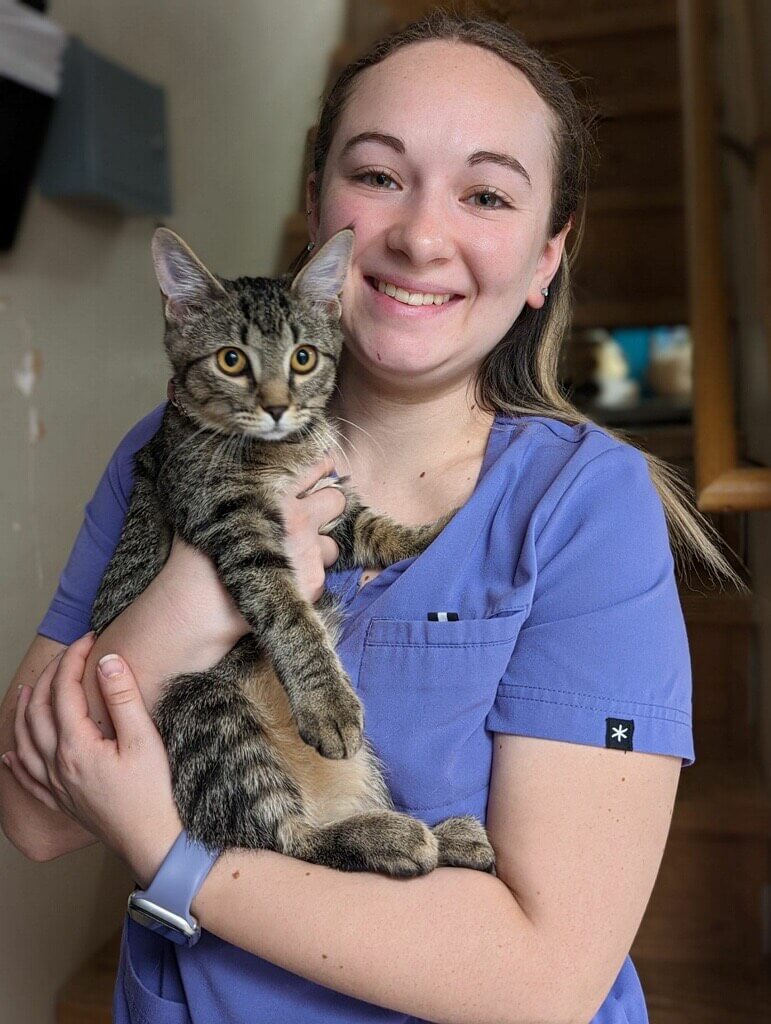 Violet Derenia
Veterinary Assistant
Violet was born in Edmond, Oklahoma, on a blizzardy night in December and moved to the coastal town of San Pedro, California, five months later. She is the eldest of three children. When she was seven, her family moved them back to Guthrie, Oklahoma, and she has stayed there ever since. High school was a point in her life where she was exposed to caring for poultry and showing them at the fairs. Her favorite thing about high school was being in FFA and getting to show chickens. She was also active in marching band and choir, which she both loved. She graduated from Guthrie High School in 2019.
Her whole life was raised around animals, and a part of her knew she wanted to work with them when she grew up. Jumping back and forth between a veterinarian, a veterinary technician, and a marine biologist, she decided to stay close to home instead of venturing out of her home state. She enrolled in OSU-OKC for veterinary technology before switching majors. She entered the business field after her grandfather passed in 2020 during the pandemic. She graduated with an associate's in business management in 2021. While attending OSU-OKC for her business degree, she was offered a job doing kennels on the weekends here at Guthrie Pet Hospital.
Working the weekends and caring for the animals opened a door for her to gain experience and continue to work full-time as a veterinary assistant. She enjoys spending time with all the clients and their fur babies here at the clinic while ensuring we give them the love and the attention to make their visit less stressful.
Her home consists of two dogs, four cats, eight ducks, eight chickens, and many pigeons. She enjoys hiking, traveling, and reading when she gets the chance. You will find her at home caring for her animals and spending time with her family when she is not at work. She plans to return to school to obtain her degree in Veterinary Technology within the next few years.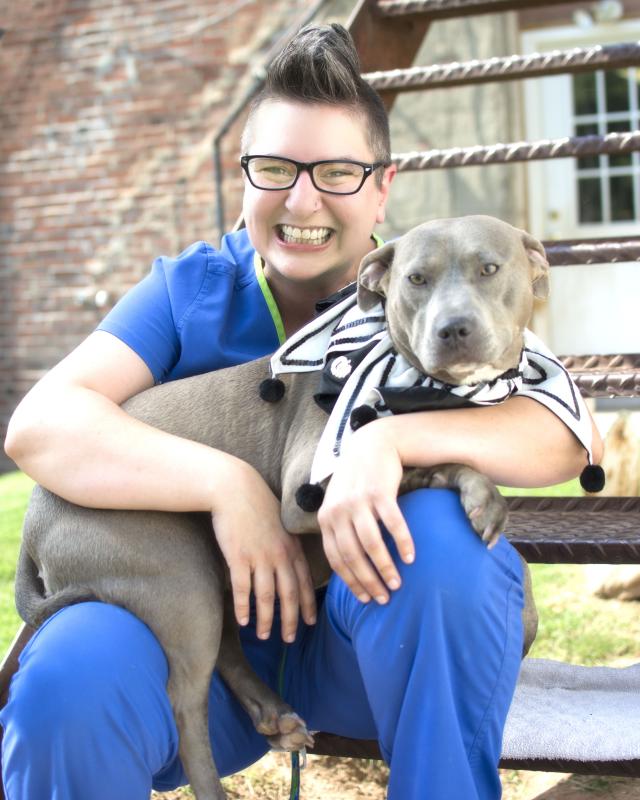 Stefani Fortney
Groomer
Throughout a childhood of frequent moves and uprooting of friendships as the daughter of a pastor, Stefani developed a very strong bond with her pets. She knew from her first 4H obedience training class at the age of nine that she wanted to pursue a deeper connection and communication with dogs. While acquiring her bachelor's degree in General Studies from the University of Central Oklahoma, she also worked a part-time job as a bather at grooming salon. That job led to the opportunity to apprentice as a groomer.
After earning her B.S. in General Studies and completing the two-year-long apprenticeship process, Stef became a full-time groomer. She began working at Guthrie Pet Hospital shortly afterward. After almost a decade of working solely in the field of grooming, with the support and encouragement of Dr. Anna Coffin, Stef continued her education and deepened her connection with dogs once again by earning her dog training accreditation through Animal Behavior College. Now, she continues to groom dogs, as well as teaching private lessons in obedience and behavioral problem solving. She teaches using only positive reinforcement training methods.
Stef is also a professional musician and actor, as well as a published poet. She enjoys spending her free time with her wife, Melissa, and their six dogs, one cat, and flock of nine quail.